Rotary Piston Vacuum Pumps
A rotary piston pump is a self-priming reversible positive displacement pump which can deliver in high volume oils, viscous fluids such as resins and fuel efficiently. Rotary piston pumps typically handle up to 20,000cst and temperatures up to 300°C.
A rotary piston pump operates by a piston sliding back and forth along a rotors groove pulling liquid into the inlet of the pump. The rotor operates like a rotary valve enabling the pump to self prime. Two direct driven pistons operating in twin cylinders. The piston moves towards the Centre of the pump when near the pump inlet and as it moves towards the outlet of the pump it moves along the rotor expelling the liquid via the outlet.
Low lifecycle cost
Slow rotational speed, optimum reliability and low lifecycle cost. Space saving design with a small footprint and a self-contained unit delivered ready to install.
Reduced maintenance
Fitted with a water mizer to minimize the water consumption and optimize the running temperature offering extra reliability and a longer period between maintenanc
Automatic lubrication
Automatic lubrication system provides proper flow of oil to bearings and sealing surfaces and prevents back flow into system in case of a power failure or loss of vacuum.
Rugged construction
Robust cast and ductile iron construction provide a reliable operation. Features an efficient design with high uptime with minimal moving parts and large clearance.
EP-RPP Rotary Piston Pumps
| | |
| --- | --- |
| Flow Rate | Up to 64 m³/hr |
| Head (Pressure) | Up to 5 bar |
| Sizes Available | From 3/8" to 4" |
| Operating Temperature | Up to 300°C |
| Viscosity | Up to 200,000 cSt |
| Drive Options | Electric Motor, Hydraulic Motor, V-Belt |
| Construction Materials | Cast Iron, Stainless Steel and Bronze |
The EP-RPP Rotary piston pumps in China are positive displacement volumetric self-priming pumps, with fantastic self-priming capabilities, they can also be used in reversed meaning the suction can become the discharge side if required a feature extremely helpful for loading, offloading and mixing applications, these pumps are capable of handling a quite large variety of  fluids from low (10 cSt) to high viscosities (200,000 cSt) and a max. temperature of 300 °C. These pumps can maintain a high volumetric efficiency even when pumping extremely viscous fluids this along with their high suction capabilities make our rotary piston pump range the most suitable selection for most process, transfer, decanting and mixing applications.
Design Features/Benefits:
•        ATEX Certified
•        High Efficiency Even with Highly Viscous Fluids
•        Temperatures Up to 300 °C
•        High Self-priming Capabilities
•        Capable of Handling Viscosities Up to 200,000 cSt
•        Reversible – Clockwise and Anticlockwise
•        Capacity achieved is directly proportional to their working speed
Typical Applications/Fluids:
•        Food – edible oils, chocolate, tomato paste, jams, honey, butter, mayonnaise, molasses, cake batter, dry food etc.
•        Cosmetics and more – detergents, soaps, toothpaste, beauty creams, perfumes, acetone etc.
•        Fuels and oils – thermal oils, mineral oils, kerosene, diesel, fuel-oil, gasoline, white spirits, toluene, gasoil etc.
•        Industrial fluids – adhesives, emulsions, grease, resins, paraffin, asphalt, bitumen etc.
Piston pump
A rotary piston pump is a form of the hydraulic pump. The working pistons broaden in the radial direction symmetrically all over the drive shift.
The pump is a self-preparing, reversible positive relocation pump that can convey high volume oils and thick liquids. Rotary pistons lengthen in the radial route symmetrically all over the driveshaft to transport the product up as it's being pumped out of its reservoir. These pumps are prepared for use on frequencies from 60 Hz to 100 Hz; meaning they work efficiently whether you're pumping water or any other fluid.
Moreover, the pump is an efficient means for transferring any liquid with viscosity 0 – 20,000 CST (Centistokes) at temperatures ranging from below zero degrees Celsius (-273°C), 300 °C (572 ° F).
Operating principle and features:
The series HGL, HG pump is a kind of single-stage and single-cylinder rotary piston vacuum pump. It is greatly improved series H rotary piston pump and includes four patents; its general capabilities have a great improvement.
Rotary piston vacuum pump is a sort of vacuum production equipment suitable for pumping ordinary gases and condensable gases(when a gas ballast used). The pump must be fitted with appropriate accessories if gas is rich in oxygen, explosive, corrosive to ferrous metal, chemical reactive with vacuum pump oil.
Operation principle show in working principle graph: A rotary piston with slide valve across ecentric wheel driven by shaft within the housing. Piston pole can slide and swing freely in arch track. The whole pump chamber is divided into chamber A and chamber B by piston. When shaft rotates the volume of chamber A and chamber B are changed repetitively, so that pumping purpose could be achieved.
The series HGL, HG pump can be a backing pump when combined with another high vacuum pump as well as operate singly. It is widely used in vacuum smelting, vacuum drying, vacuum impregnation and high vacuum simulation testing,etc.
Performance Parameter:
Type
Ultimate Pressure
Total Pressure
Pumping Speed
Inlet Diam
Outlet Diam
Noise Level
Motor Power
Cooling Water Consumption
Weight
(Pa)
(Pa)
(L/S)
(mm)
(mm)
dB(A)
(Kw)
(L/min)
(Kg)
HGL-150
0.3
2
150
100
80
79
11
450
680
HGL-70
0.3
2
70
80
63
78
5.5
350
500
HG-150
0.3
2
150
100
80
79
15
700
860
Rotary Piston Vacuum Pumps
Submit a Vacuum Pump Inquiry
A rugged type of vacuum device is the rotary piston vacuum pump. Industries such as aerospace, vacuum degassing, evacuation, metal drying, and vacuum impregnation use the rotary piston vacuum pump to create vacuum. This type of pump is attractive when handling dry, non-condensable loads.
How Rotary Piston Pumps Create Vacuum
The piston is eccentric to the main bore of the pump cylinder. Gas is drawn into the chamber as the volume in the "bucket" expands as the piston moves around the chamber. When this volume is at its maximum, the bucket seals as the piston closes off the inlet port. As the sealed-off gas rotates around the chamber, the gas is compressed and discharged out of the outlet port at a pressure slightly above atmospheric.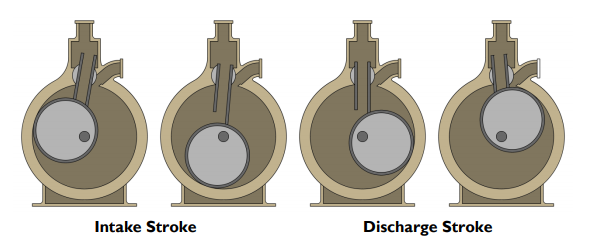 A thin film of lubricating oil lines the inside of the vacuum chamber within the rotary piston pump to achieve a better vacuum seal. However, this oil can become entrained in the process vapors and is present in the discharge vapors of the vacuum pump. Contaminated process gas is unavoidable.
The rotary piston pump has two configuration, single-stage and two-stage. Similar to liquid ring vacuum pumps, the two-stage configurations have higher capacities at deeper vacuum than the single-stage designs. Additional components can be added to the rotary piston vacuum system to improve operability and convenience, including: oil mist eliminators to collect and recycle entrained oil, after-condensers and receivers to collect trace amounts of condensables on the discharge of the system, and many others.
Pros and Cons:
The rotary piston pump has many advantages:
Relatively cheap and high capacity at deep vacuum levels (<0.01 Torr)
Rugged design which allow for a long life
Can allow trace amount of solvents
Limitations of this type of vacuum pump are as follows:
Cannot handle liquids or any process carryover because these will damage the internals of the pump
Cannot easily handle condensable vapors
Solvent recovery is not possible due to oil contamination
Designs can be noisy
Single-Stage Rotary Piston Pumps
Two-Stage Rotary Piston Pumps
The EP-Series Vacuum Pump Units have been engineered to vacuum convey various types of thermoplastic resin materials plant wide, with; small, medium or large capacity transfer rates. The floor mounted vacuum power unit is available in any volt-age, 3 phase, 50 or 60 Hertz current. The Vacuum Power Units are supplied with positive displacement vacuum blowers and T.E.F.C. motors. The unit comes complete with separate vacuum and pressure relief valves and the entire unit is enclosed to protect plant personnel which also extends the motor and blower life
A rotary piston pumps in China operates like a traditional linear piston via sliding back and forth inside grooves on its rotating shaft; however, unlike other pumps, two direct determined pistons are working within twin chambers simultaneously due to the power generated through rotation it keeps on powering each chamber.
Functions
This pump has many functions. Firstly, it's used to prime the system before use with some fluid that gets pumped out at the end of the operation. Secondly, if there isn't enough pressure from a previous piston stroke for this one to work as intended then two direct determined pistons are working in twin chambers and they'll take care of any necessary pumping action on behalf of their counterpart while also moving towards each other until both have reached maximum capacity! Lastly and most importantly, these rotary pumps can self-prime themselves by having their rotor move like a valve which enables them to close off various ports at different times so that no air bubbles get caught within your motor or cause damage elsewhere
Company Concept
Company adhering to the management objective of quality first, prestige supreme.
Strong Technical Force
Strong technical force, superior to similar products in Japan and Germany, please refer to vacuum pump comparison for more detailed information. Advanced production and testing equipment, strict implementation of ISO9001 quality management system, products have obtained CE certification, and the ep series have passed US authoritative testing and certification
24/7 Customer Support
24×7 service support is one of the best services in the company. 24×7 service support providing quality services at anytime, anywhere in the world.
Rotary Piston Vacuum Pump Set
Short Description:
Summarization EP series rotary piston vacuum pump set is made up with the Roots pump and rotary piston vacuum pump. Rotary piston vacuum pump is used as the pre-vacuum pump and the backing vacuum pump of the roots vacuum pump. The selection of displacement ratio between the Roots vacuum pump, is mainly referred to the pump under long term running; when working in low vacuum, it is advisedto select small displacement ratio(2:1 to 4:1); if working in medium or high vacuum, the bigger displacem…
Summarization
EP series rotary piston vacuum pump set is made up with the Roots pump and rotary piston vacuum pump. Rotary piston vacuum pump is used as the pre-vacuum pump and the backing vacuum pump of the roots vacuum pump. The selection of displacement ratio between the Roots vacuum pump, is mainly referred to the pump under long term running; when working in low vacuum, it is advisedto select small displacement ratio(2:1 to 4:1); if working in medium or high vacuum, the bigger displacement ratio(4:1 to 10:1) should be preferred.
Features
● High vacuum,high exhausting efficiency in medium or high vacuum,wide working range,obvious energy-saving;
● Integrated rack,compact structure,small required space;
● High automation,simple operation,easy maintenance,safe,reliable and durable running.
Applications
Widely used in vacuum metallurgy, vacuum heat treatment, vacuum dry, vacuum impregnation, vacuum strainer, poly-silicon production, aerospace simulation and so on..

How the piston pumps create a vacuum
The piston is placed eccentrically to the main bore of the pump cylinder. Initially, the gas is drawn into the chamber, as the volume increases, the piston starts moving around the chamber. At the point when the volume reaches its maximum level, the piston closes the inlet port. The sealed gas in the chamber starts rotating all over, and they are compressed and discharged out of the outlet port at slightly above the atmospheric pressure.
Can this pump run dry?
No, definitely not! Rotary piston pumps will incur damage even after short periods of dry running. Firstly, the piston requires lubrication from the pumped fluid, for example fuel and oil. Dry running without these will cause fast and irreversible damage. The mechanical seal requires lubrication and cooling while the pump is operating. Without the presence of fluid, the mechanical seal will overheat and crack, and this may cause the pump to leak and fluid to enter the motor. There is also the possibility that the motor will burn out. Our advice is to ensure that the pump always has access to fluid while running, the vessel or sump on the inlet side of the pump must never run out of fluid while the pump is active. Level sensors or a float switch can be installed in the fluid chamber ensuring that the pump is turned off in the event there is no fluid. Another way of protecting the pump is to fit a dry running device, this will turn the pump off if it detects that no fluid is entering the pump. If you think that dry running is inevitable, then please speak to us and we will try to select a more suitable pump for your application.
How does a bypass work and do I need one?
An integral bypass is designed to protect the pump and system from overpressure for small periods of time. It is typically set to around 10% higher than the working pressure, it will open and recirculate the fluid inside the pump head when the set pressure is achieved. An integral bypass is only a temporary solution and cannot operate indefinitely, an additional external bypass that runs back to the fluid source is always recommended as a more permanent solution.
How do I know what size pump and motor speed is correct for my application?
A clear picture of the pump system is required to make an accurate selection. The main pieces of information required include; a description of the application, bore of pipework, the fluid, viscosity, size and type of solids, flow rate and pressure/head. With these pieces of information, a pump can be sized correctly to ensure it delivers the required flow rate and pressure and that is also operates at its best efficiency point to lower lifetime costs. Knowing if the pump is running intermittently or continuously also allows the correct motor speed to be selected. For instance, a pump running continuously 24/7 will require a slower speed motor rather than a full speed motor. Running the motor slower and oversizing the pump will reduce wear of the motor and the pump, therefore lowering maintenance costs during their lifetime.
What viscosity can this pump handle?
Please be aware that the figures displayed relate to the largest pump from this range of products, not specific models. For details on viscosity for specific models, please refer to datasheets or contact a member of our sales team.
Uses of the piston pump
The piston pumps have found extensive use in the industry where there are requirements of vacuum, that includes aerospace, metal drying, vacuum impregnation, vacuum degassing etc.
Advantages of rotary piston pump
Cheap and have a high capacity at deep vacuum levels
The robust design enables them for long life ( long-lasting).
Can permit trace amount of solvent
Lower noise
Higher reliability
Absence of axial internal forces on the drive shaft bearing
Curtail the flow of strain ripple
If your work demands a durable, reliable and best rotary piston pump then you have come to the right place! Infusing the latest technology and modifying the design we deliver equipment which doesn't only work brilliantly but also lasts for years.
Our range of vacuum pumps
Rotary Piston Vacuum Pumps
To know more about us you can visit our website  https://roots-vacuum-pump.com/vacuum-pumps/
If you want to start a conversation then email us at sales@roots-vacuum-pump.com
Keep in touch or order products