Vacuum Pumps
Single Stage

* Lightweight cast aluminum construction for maximum durability
* Direct drive motor allowing easy starting and is maintenance free
* Oil viewing windows allows you to monitor oil quality and levels;Oil Drain Valve – Positioned at the bottom of the oil
reservoir and angled for faster, more complete draining;
* Oil Fill Port – Makes adding oil simple since the port is accessible from the front or either side;
* Built-in high volume cooling fan for extended use, therefore it is thermally protected.
Vacuum pumps, blowers, and low-pressure compressors are essential for many industries.
AGKNX offers the widest range of vacuum pumps, blowers, and low-pressure compressors technologies. Whether you need oil-lubricated or dry running pumps, we can find all solutions that meet your requirements. Moreover, our products are high quality with expert know-how behind them.
Being the leading manufacturer of vacuum pumps, blowers, and low-pressure compressors in the world. We take pride in our products, to keep up with that we offer a wide range of stocks that can be used in various industries such as food processing, pharmaceuticals, semiconductors, electronics manufacturing, and more. Our engineers have years of experience designing these products to meet your specific needs.
COMPANY INTRODUCTION & EVER-POWER
Zhejiang EVER-POWER Vacuum Equipment Manufacturing Co., Ltd. is located in Wubei Town, which is known as the "Hometown of Pumps and Valves in China". We-vacuum pump manufacturers and vacuum pump distributors-specialize in the production of vacuum pumps with extensive experience in this field. Through the dedication and hard work of our young team, our products enjoy a high reputation at home and abroad. Our main products include rotary vane vacuum pumps…
EP-SERIES
VACUUM PUMP UNITS
The EP-Series Vacuum Pump Units have been engineered to vacuum convey various types of thermoplastic resin materials plant wide, with; small, medium or large capacity transfer rates. The floor mounted vacuum power unit is available in any volt-age, 3 phase, 50 or 60 Hertz current. The Vacuum Power Units are supplied with positive displacement vacuum blowers and T.E.F.C. motors. The unit comes complete with separate vacuum and pressure relief valves and the entire unit is enclosed to protect plant personnel which also extends the motor and blower life
What makes our vacuum pump different and better
Minimal downtime
Our vacuum pumps are designed to make your manufacturing process faster, safer, and more efficient with minimal downtime. We continue to invest in product development and research so that the pumps we offer are at the forefront of our industry.
Highly durable
Our stocks include high-quality vacuum pumps, compressors, generators, and other related equipment. Along with the excellent-quality vacuum pump, our all products are designed to be durable and reliable in order to provide you with the best possible experience.
Unbeatable quality
Vacuum pumps are a critical component of many industrial processes and we totally understand the importance in the field. So we invest our energy in cultivating products that are unbeatable in the industry and worth the investment. Hence we deliver high-quality vacuum pumps that enjoy a high reputation at home and abroad.
High-end Simple operation hand single stage rotary vane vacuum pump
2XZ-1 rotary vane vacuum pump is a double stage high speed direct coupling structure rotary vane type vacuum pump, which is the basic equipment used to pump gas of the sealing container. Its air bleed speed is 1L/s(50Hz), 1.2L/s(60Hz); partial pressure≤6×10-2 Pa; motor power is 0.25kw; oil volume is 0.7L. Pump cavity is provided with a rotor, the rotor slot with rotary vane. The rotor drives the rotary vane rotation, the rotary vane close to the chamber wall and separated air inlet port from the discharge port, and the air inlet area of cavity volume is periodically enlarged and inhale, discharge chamber volume is periodically reduced and compressed gas, open the exhaust valve to exhaust gas and then to obtain vacuum. Its working performance is composed of two parts, the high level and low level. Its suction is connected with vacuum equipment, when in operation The gas in container will have a large number of suction and discharge, when the equipment got vacuum, high pressure grade exhaust valve is closed, high-pressure grade inlet gas will be transferred to the second level, and through the second stage suction and discharge vacuum equipment, it can obtain a certain vacuum. Pump connecting shaft with motor, high speed, small appearance, compact structure, convenient mobility work.
Pumping rate: 0.25~30L/s
Gas type: Clean dry air without any other mixture at ambient temperature.
Working requirements:


When the inlet pressure is greater than 6500Pa, continuous working hours must not be more than 3 minutes so that avoid fuel injection to damage pump.When the inlet pressure is less than 1330pa, it is allowed to work continuously for a long time.

Ambient temperature:5℃-40℃, the relative temperature is not higher than 90%.
1.Maintenance
1.Keep the pump clean and prevent foreign matter from entering it.
2.Keep the oil level. Do not keep it running without oil.
3.Keep the oil clean. If it becomes dirty, muddy or has water or other volatile substances which affect limit vacuum the oil should be replaced. Before replacing the oil, start the pump and have it run about 30 minutes to make the oil thin and then stop it and let out the oil from the oil-outing mouth. Then have it run for 1-2 minutes with the gas-entering mouth open. During this time, add a small quantity of clean oil from the gas.Entering mouth so as to replace the remaining oil in the pump. Do it repeatedly. After making sure the pump is clean put on the oil-outing screw plug and then fill clean pump oil to the oil-level line from the oiling mouth.
4.If it is not in use for long, cover the oiling cap and exhaust cap and put it in a dry place. Meanwhile, damp proof and anti-rust should be considered.
5.If it needs removing and fixing is sure to have an experienced or professional technician one does it.
2.Precautions
1.Do not pump inflammable, explosive and poisonous gases.
2.Do not pump gases which can corrode metals and can exert chemical changes with the pump oil.
3.Do not pump gases containing pellet dust and gases with plenty of steam.
4.The temperature of the pumped gas should not be over 80° and the environment temperature should be 5 – 6.
5.Do not use it as a compression or a convey pump.
6.Do not use or operate without oil.
7.Do not pull on the wire when unplugging from the outlet.
8.Do not put heavy weights on the wire to avoid being extruded.
9.Do not use when the plug or outlet if it is damaged.
10. Do not plug or unplug with your wet hands.
11.Unplug or switch off the machine when there is any kind of leak of coal ga
Specification of 
Model
Parameter
2XZ-0.25
2XZ-0.5

2XZ-1

2XZ-2
2XZ-4
2XZ-6
2XZ-8
2XZ-15
2XZ-25
Air bleed speed m³/h(L/s)
50HZ
0.9(0.25)
1.8(0.5)

3.6(1)

7.2(2)
14.4(4)
21.6(6)
28.8(8)
54(15)
90(25)
60HZ
1.1(0.3)
2.1(0.6)

4.3(1.2)

8.6(2.4)
17.2(4.8)
26(7.2)
34.5(9.6)
64.8(18)
108(30)
Extreme pressure(Pa)
partial pressure
≤6×10-1
≤6×10-2

≤6×10-2

≤6×10-2
≤6×10-2
≤4×10-2
≤4×10-2
≤4×10-2
≤4×10-2
full pressure
≤6.5
≤1.33

≤1.33

≤1.33
≤1.33
≤1
≤1
≤1
≤1
Rotating speed(r/min)
50HZ
1400
1400

1400

1400
1400
1400
1400
1400
1400
60HZ
1720
1720

1720

1720
1720
1720
1720
1720
1720
Motor power(kw)
0.12
0.18

0.25

0.37
0.55
0.75
1.1
1.5
2.2
Noise(dBA)
63
65

65

68
68
68
70
70
72
Oil vilume (L)
0.5
0.6

0.7

1
1.2
2
3
4
5
Size(mm)
403*130*240
447*168*260

469*168*260

514*168*282
565*168*282
565*200*342
650*240*430
700*240*430
770*240*430
G.W./N.W.(Kg)
16/15
17/16

18/17

22/20
24/22
50/40
70/60
86/75
98/85
About Vacuum
First a bit about vacuum in general.  Vacuum is just volume without any molecules in it. The reason a vacuum bag presses "down" on its contents is that the atmosphere (air, sky, all the clear stuff up there) weighs a whole lot.  We don't feel it because we are "pressurized" from the inside to compensate and our bodies are designed to handle it. If you go way up in the air in a plane where there's less pressure, the plane is pressurized to approximate the way it feels on the ground. This is why astronauts wear pressurized suits while space-walking!
So when you pull the air out of a vacuum bag, there is no more air pressure inside. The atmosphere outside presses down on the outside of the bag with its full weight, which is approximately 14.7 lbs per square inch – or about 10,300 kg per square meter (101 kPa).  That's a lot! We can measure the amount of air removed from a vacuum bag relative to the air outside (atmospheric pressure) with a relative vacuum gauge. If you remove only some of the air inside a vacuum bag, the atmospheric pressure only pushes with a fraction of the potential 14.7 psi / 101kPa.  So you can adjust the vacuum level to tailor the pressure required for the job.
Vacuum is measured by comparing the pressure inside the measured volume (vacuum bag) with either the air outside (atmospheric pressure) or absolute pressure (absolutely no air) with either a relative gauge or absolute gauge.  Absolute gauges are more repeatable because the atmospheric pressure changes with the weather. Unless you are fussy or have a specific application, an absolute gauge is probably not necessary for basic bagging. I'll get back to gauges later on.  Here is a graphic that shows pressure and vacuum in commonly used units of measure: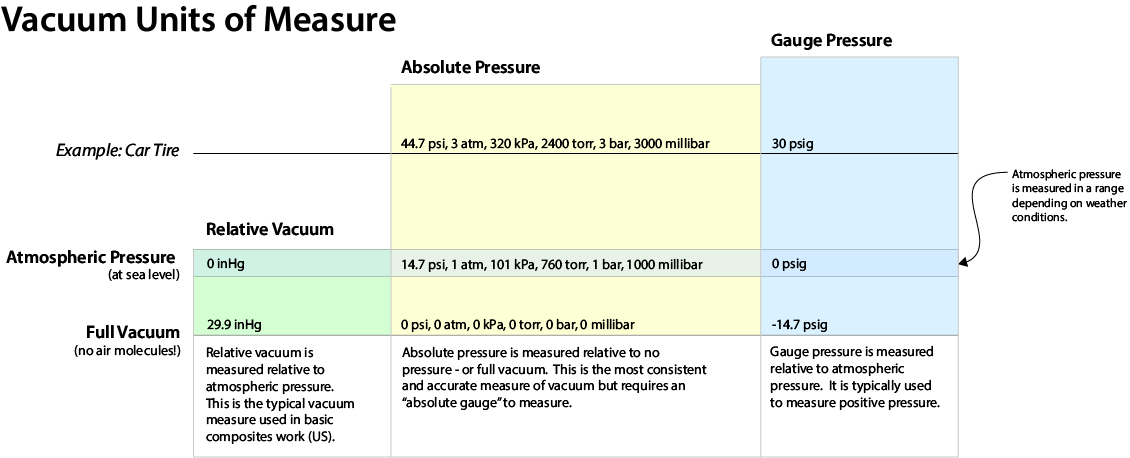 Most vacuum pumps and gauges will use either torr, inches of mercury (inHg) or millibar (mbar).  The capacity will be rated in cubic feet per minute (CF/M) or cubic meters per hour (CM/H). This is a theoretical capacity.  Most pumps can perform to their rating only at "free air" or no-load condition. As the vacuum level increases, the pump has to pull harder to remove air and the efficiency goes down.  Many pump manufacturers publish a graph of this flow rate against vacuum level. Be mindful of this as you look at pumps and be sure to ask manufacturers (or consult datasheets online) to get an idea how much drop in flow to expect as vacuum levels increase. In practice, a bag will only get better as you remove leaks. The flow (CF/M) requirement will go down, allowing the vacuum level to go up. So practically it isn't much of an issue but it is important to understand.
Why choose AGKNX
 We provide a wide range of options to suit your all needs
 AGKNX is an experienced vacuum pump manufacturer and distributor with products that have been used across the world for years. We offer a wide range of vacuum pumps to suit your needs, from small laboratory models to large industrial units.
 Customised according to the need
 Being the leading manufacturer in the country, our goal is to provide you with the ultimate solution. To keep up our promise we design our pumps keeping your needs in mind, from our vacuum pumps to our leak detection systems. Moreover, we also offer a large variety of products that can be tailored to suit your specific needs, no matter what they may be.
 Best possible service
 Vacuum pumps, blowers and low-pressure compressors are essential for many industries. Thus we aim to provide you with the best possible service and support throughout the life cycle of your purchase.
 Customer Satisfaction is our topmost priority
 Providing products that bring 100% customer satisfaction and their trust is what we crave. To ensure we outperform every time and keep up with the earned trust, we absolutely don't compromise on the quality.
 If you're looking for a vacuum pump, blower, or compressor that will last for years to come, then look no further than AGKNX! Contact us on  sales@roots-vacuum-pump.com for more information about our products
Even if you are not sure about your needs and wish assistance or advice on any aspect of our product range, our experts will always be present to guide you. For more information about how we work and what we do please visit us https://roots-vacuum-pump.com/vacuum-pumps/
Company Concept
Company adhering to the management objective of quality first, prestige supreme.
Strong Technical Force
Strong technical force, superior to similar products in Japan and Germany, please refer to vacuum pump comparison for more detailed information. Advanced production and testing equipment, strict implementation of ISO9001 quality management system, products have obtained CE certification, and the ep series have passed US authoritative testing and certification
24/7 Customer Support
24×7 service support is one of the best services in the company. 24×7 service support providing quality services at anytime, anywhere in the world.
Anyone without a deep understanding or knowledge of pumps might think that vacuum generation is simply a question of "plugging in a pump", starting it up and waiting for the vacuum to drop to the required level.
But the reality is that there is far more to the process.
Vacuum pumps are used to remove air or gas molecules from a sealed volume thus creating a vacuum. The vacuum level can be controlled, for example, with a process gas at a specific pressure.
Finding the right vacuum pump not only requires a good understanding of the necessary vacuum level and application – it also requires an understanding of process conditions, the operating range and the benefits and limitations of each specific vacuum pump type.
In this blog, we'll briefly outline the four factors to consider when choosing between different types of vacuum pumps.
We are a manufacturer of china air compressor, oil-less compressors manufacturers, screw air compressor, scroll air compressor, oil-free air compressor suppliers, lower noise air compressor china manufacturers, Ep type Oil-free air compressor suppliers, single screw compressor china, double screw china manufacturers, output pure air china, Gas tank china suppliers. We warmly welcome all customers to contact us and work together to establish a good Relationship
Keep in touch or order products